October 31st, 2020 falls on a Saturday. It's far too soon to know the weather, but the fact that there's a full moon is pretty unlikely to change. In other years, this would be a Hallowe'en-lover's dream. And I, as you know, am a Hallowe'en lover.
This, alas, is not other years.
I know; it's going to be outdoors with masks on. That's what we're doing anyway, so Trick-or-Treating should be safe enough. Right? …Right?
…No. Not right. In fact, I find it hard to think of a bigger recipe for disaster except, perhaps, bobbing for apples. (Mental note: No bobbing for apples this year.)
Congress is being unusually helpful in this; they're pressing the CDC for guidelines to help us safely celebrate (and if the CDC cooperates, we'll link it here). Some local mayors have already pledged that the holiday will go on. Magazines such as Prevention and Country Living have released seasonal spooky patterns for COVID-friendly masks you can either purchase online or even make at home.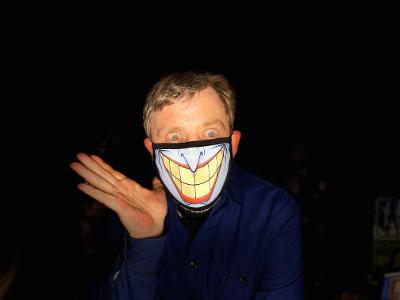 But even a custom Joker bandanna isn't going to be enough protection for most people. We've still got to practice social distancing and handwashing, and so on. So here's a few creative ideas people have come up with around the country, including one or two that, I fancy, are original to me:
Drive-By Hallowe'en
This one, I don't swear by. The idea is, you position kids on the lawn and organize cars full of adults timed to drive past, admire the costumes, and throw candy at the kids. Leaving aside the chances of someone putting an eye out, kids getting hit, or drivers losing control of the car, there's no reason to think the candy's going to be sterile just because it gets tossed through the air. It's one of the popular ideas, though, so you should be prepared in case it happens in your town.
Think ahead: Hand sanitizer for the kids, provide your own treats for immediate consumption, and if you do drive around make sure you have someone else handle tossing the candy. Likewise, Trick-or-Treaters who don't participate should be extra careful to be well-lit while walking and have some adult supervision if practicable.
Trunk-or-Treat
This idea has been gathering momentum for a couple of years now. If you're not already familiar with how it works, the idea is, a local parking lot is reserved, and kids go past begging for candy at people's trunks. It's all outdoors and well-distanced, and the environment is nicely controlled — in a word: ideal.
The same precautions mentioned above should probably be observed.
Celebrate At Home
This is the no-brainer solution. And I agree; it sounds like the least fun one — but it's definitely the safest. If you opt for this, you'll know the drill already: decorate the whole house as a team; have Zoom calls with relatives so you can show off your pumpkin carving skills; lay in a stock of the best scary movies. I've even heard about (though have no clue how to set up) Zoom-based costume or dance parties, whether for kids or adults.
If you choose to do this, you'll need to decide in advance what you're going to do about giving out candy. There are some ideas further down.
Social Distancing Party, Preferably Outdoors
It's possible your city has a stadium with no better purpose on a Saturday night (and I can't think of a better use myself). There are also parks and athletic fields. It might not be too late to talk local schools and city councils about setting up a spooky movie night outside, for example, with roped-off plots for small groups. Failing that, city neighborhood groups could get permission to close off short lengths of some side streets.
If you're fortunate enough to own a large lawn or field, you could do this yourself without too much trouble; if you're not, but have friends or relatives that are susceptible to begging or guilt… well, that's your call. Local small businesses such as orchards may well be eager enough for potential custom to help out in this manner.
Ding Dong Ditch
Traditionally, this is a prank played on the unsuspecting; ring the doorbell, run and hide in the ditch. Variations include lighting a paper bag full of cowpats alight and watching the homeowner stamp it out. Since this can cause hard feelings (and there's enough of that going around this year), I'd instead advise a version where you make treat baskets for people you know won't be getting out, leave them at their front door, and so on.
Drive Thru Hallowe'en
If you happen to live within driving distance of Orlando, you've got a treat in store: a drive-thru haunted house designed by some real pros. Even if you don't, some of the more creative devotees of the holiday are setting up their own versions around the country. It's early days still, but keep your eyes peeled for ads in your local area.
Socially Distant Candy
Our reliable old friends at Oriental Trading Company (not a sponsor, so let them know who sent you and I'll sit here with my fingers crossed) have got your back. (Technically, this one's at the Prop Store. -Ed.)
From the haunted graveyard (with each kid having their own stone and treat bag) to the driveway table (for kids being driven by), Boo Baskets and Trunk or Treat setups, this site can be your one-stop shop.
Which isn't surprising; Oriental Trading sells a ton of cheap and gaudy plastic tat, which is exactly what we crave for Hallowe'en. They do a bumper business most years around this time, and given their creative adaptivity they've well and truly earned the same for 2020.
The Bottom Line: Start Right Now
No matter which of these ideas you opt to go with (or even something uniquely your own), the trick will lie in proper preparation. You'll need some time to get things ready, and it'll never be sooner than right now.
Hop to it, friends! You've only got… let's see, thirty days hath… 54 days remaining as of this writing. Better get started!
---
Yes, I know this post wasn't political. So what? Some things are important, and Hallowe'en is one of them. If you agree, why not donate something in support? And if you disagree, you should certainly send me a message. Attach some cash with it using PayPal or the Buy Me A Coffee button so I'm sure to notice.
Trick Or Treat! :o)

PS: image shamelessly stolen from https://thestrangersbookshelf.wordpress.com/tag/jack-o-lantern/, who I couldn't get in touch with, so I put up this link in trade